Amazon Mp3 Download Page
The Rhythm of Life: Combining Science and Music Educational Workshops for Schools by Glenn Clarke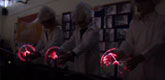 View Video & Write Up
Beating Technology & Change Workshops & Team building Bringing Company's Together by Glenn Clarke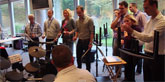 View Video & Write Up
New Percussion Sheet Music Site.
Why pay over the price for all your percussion ensemble music needs and GRC books, take a look at Glenn Clarke's new drum and percussion sheet music website!
Visit Percussion Download
Steve White Guest Teacher!
Steve White has joined GRC Percussion as a Guest Teacher and will be giving one to one tuition
Read More
Drum & Guitar Tuition Southampton & Winchester
Glenn Clarke's GRC Drum Kit Students continue to hit on the right beat with past  and present students going on to work with such bands and artists Girls Aloud , Eminem , Will Smith , Natasha Bedingfield , Sway, Il Divo Glenn R Clarke ,Director of GRC Percussion runs his Private one to one tuition studios from Winchester. GRC Percussion offers One To One tuition for the drum kit and tuned percussion, for all ages and standards with a more personalised approach.
Tuition is given in all aspects and styles, from modern to classical with students choosing there own personalised tuition direction. Tuition combines practical musicianship and reading skills incorporated into improvisation training. All students have the opportunity to undertake professional recognised examinations to obtain relative qualifications, GRC Percussion holds a 100% pass rate with all students which have entered into such exams: please note this is optional with no presser given to study such exams. Success goes to strength to strength. As well as tuition Glenn hosts celebrity workshops with such international drummers as Chad Smith RHCP , Dennis Chambers :Santana , Gregg Bissonett : Toto  : Steve White : Paul Weller.
GRC Percussion has recently moved to an all purpose built tuition studio with multiple tuition rooms for different instruments in winnal winchester, including its very own muso cafe and retail store, visit us at 20 Moorside Road, Winchester, SO23 7RX. Look out for GRC learn to play signage and aligator storage signage.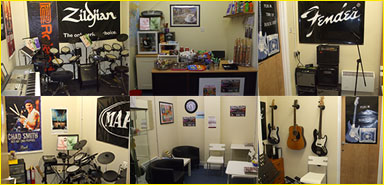 Student Review

I have been taught by Glenn for many years learning different styles of music, From Latin to Drum and bass to Rock. The skill I have learnt from my drum lessons has allowed me to Play in a Ska-Punk Band, and be the drummer in my school productions for 3 Years Running.
Jacob Stanswood